Annual Gathering for International Students and Neighboring Community
15 Mar 2012
---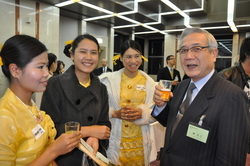 On March 8, more than 150 international students and regional supporters for Toyohashi Tech's international students gathered in Toyohashi Chamber of Commerce, to have an annual meeting and the buffet party for Toyohashi Tech's International Students.

This meeting was held to improve our international exchanges and also thank our neighbors who keep supporting our international students.

Before the party was a talk session and 8 of our international students joined and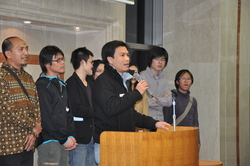 discussed the environment of Toyohashi and their lives here, with our neighboring associations of international activities. One of students told his experience of joining a homestay program in Toyohashi and other told their past school life in Hakodate, Hokkaido which was different in many ways.

After the talk session, inviting many more supporters, we had a fun time in the annual buffet party. Opening with acknowledgment from our President Sakaki to our neighbors, more than 250 people joined including our students, faculties, their families, and members of neighboring communities.

During the gathering, Myanmar students showed "Thingyan," the traditional dance for Water Festival of New Year, Indonesian students played the "Angklung," traditional percussion instrument made by bamboo, and Laos students danced "But Sa Lop" together with the people on the floor.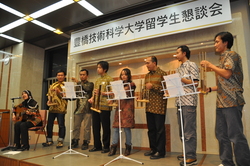 Also, Japanese sake made by Toyohashi Tech's Research Center for Agrotechnology and Biotechnology was presented and the students who will leave Toyohashi by the end of March 2012 gave greets in front of the participants.

This was not only a fun time, but also a great valuable time to improve our international exchanges here as well as making good memories for the students leaving for their home countries.