Briefing Session for Toyohashi Tech Overseas Trainee 2011
13 Mar 2012
---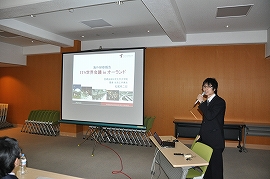 On February 28, 2012, a Briefing Session for 2011 Toyohashi Tech Overseas Trainee was held, to which the Toyohashi University Technology Foundation and the Kamino Education Foundation were invited.

The Overseas Training Program is to support students who possess a definite objective to study at the overseas institute, reflecting Toyohashi Tech's purpose to educate and train engineers and researchers with an international prospect. This program is supported by the Toyohashi Tech Foundation and a "support program for graduate students to study overseas" under the Kamino Education Foundation.

The seven participating students, who were subsided and supported in the academic year of 2011, presented their results of study overseas.
At the start of the meeting the President Yoshiyuki Sakaki indicated his appreciation of both foundations for their support of the program.
Then Professor Sakaki commented that the students who studied overseas must consider this training to be their first step and continue their efforts in international study and activities.

Following the talk by our president, the trainees reported their research results. In the question/answer session, various participants, including university instructors and students, asked questions concerning their research, international academic meetings, presentations made in English, experience in English discussions, etc.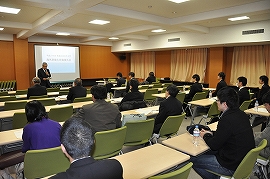 Then two guests, Mr Matsui, Chairman of the Toyohashi Tech Foundation and Vice Chairman of the Toyohashi Chamber of Commerce, and Ms Otsuji, Personnel Group at Chubu Gas Company from the Secretariat of the Kamino Education Foundation commented on the session.

Their comments were: to further improve your own expertise and specialty to send a message to the world, to be actively involved in the international field and to understand the principal meaning of this overseas training, thus making it a motive of your own growth.

Finally, Professor Hamajima, Director of the Center for International Relations, commented that, although it is said that recently not many young people are willing to go abroad, any chance to go abroad should be seized to become globalized Japanese individuals.

Finally, we would like to express sincere appreciation to both Toyohashi Tech Foundation and Kamino Education Foundation for their warm support and we look forward to continued support in the years to come.