Entrance Ceremony for the academic year 2012
04 Apr 2012
---
On the 4th of April, 2012, Entrance Ceremony for the Academic Year 2012 was held, and including both Japanese and International students, total 490 Bachelor Course Students (81 B1 students and 409 B3 students), 431 Master's course students, and 18 Doctoral Course Students were admitted to Toyohashi University of Technology.

Mostly from Japanese Technical College (

Kosen

), we welcomed 39 international students.
New comers are from Malaysia, Vietnam, Laos, China, Mongolia, Korea, Tanzania, and Bosnia Herzegovina.

They had busy time in attending the Entrance Ceremony, orientation and welcome party for International students.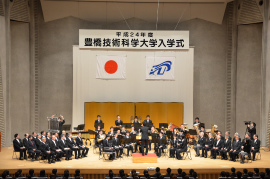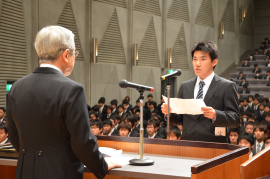 Some photos in Entrance Ceremony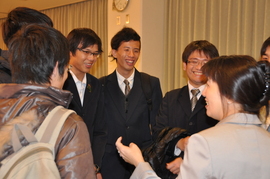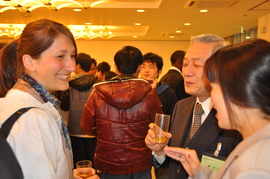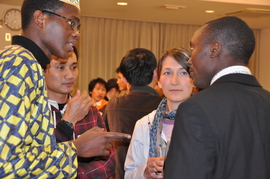 Some photos taken during the welcome party


*************************************
The Entrance Ceremony for the Academic Year 2012 will be held as follows.


1. Date & Time
April 4 (Wed.), 2012
10:00am~11:15am

2. Place
Concert Hall at "Life Port Toyohashi"
(ライフポートとよはし コンサートホール)

Address:
3-22 Jinno futou-cho, Toyohashi
Tel:0532-33-2111
See the location on Google Map

http://www.bunzai.or.jp/

3. Transportation to the Hall
-Chartered Bus (Free of charge)
From Toyohashi University of Technology to the Hall
*Please gather in East Parking Area (東駐車場) of the university by 8:35am.

From west side of Toyohashi Station to the Hall
*The Buses run to the Hall between 8:30 and 9:30 from the west side of the station.

Once on the bus, please follow the university staff's instruction.

-Taxi
About 20 minutes from Toyohashi Station to the Hall

-Toyotetsu Bus(豊橋鉄道路線バス)
From West side of Toyohashi Station (Nishi-eki 西駅) to LifePort (ライフポート)
8:05 > 8:25
9:15 > 9:35 
*Please make sure that there are a limited amount of buses.

-Private Car
Please park in the parking area next to the Hall.

4. Note
- The Entrance Ceremony will be held for both undergraduate students and graduate students.
- After the ceremony, the student lifestyle guidance lecture shall be given, during which time the parents should attend the parent meeting. Free buses shall be provided to return you to the station and the university after the lecture and the meeting.