Industry-Government-Academia Interchange Forum 2012
02 Mar 2012
---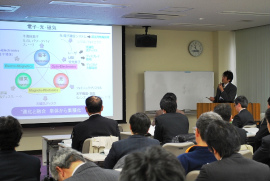 On February 14, the Venture Business Laboratory (VBL) at Toyohashi Tech hosted the 8th Toyohashi University of Technology Industry-Government-Academia Interchange Forum 2012, featuring "the next generation integrated optic devices - Optoelectronic Integration/Nano-photonics area".

A total of 78 participants from within and without the University attended the forum. Professor Wakahara, the Department of Electric and Electronic Information Technology, and nine other professors and students presented their research results.
Furthermore, three invited lectures, a luncheon meeting, and poster presentations took place, in addition to an observation tour of the 'LSI factory'.

In the forum, various ideas were actively exchanged and it proved that the "Seeds" in the University and the "Needs" off-University matched well, resulting in contributing to the promotion of industry-academia cooperation.