"Effective Use of Electric Batteries to promote the wide use of Electric Vehicles" - Research Center for Future Vehicle City's 15th Symposium
11 Jan 2012
---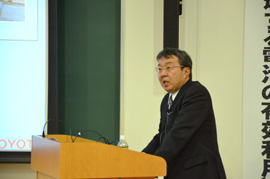 On December 6, the 15 Symposium entitled "Effective Use of Electric Batteries to promote the wide use of Electric Vehicles" was held by the Research Center for Future Vehicle City.
Toward realization of a low-carbon society, attention has been focused on the recycling and re-use of electric batteries to promote electric vehicles. In this symposium, experts active in the front line of the field gave lectures on various topics, including activities to promote electric vehicles, the recently formulated guidelines for guaranteeing safety and security in transforming gasoline vehicles to electric vehicles, the status of recycling nickel hydrogen cell batteries for HVs, which has recently been commercialized, and the secondary use of Lithium-ion batteries for EVs as a future business.
A total of 161 people (69 from within the University, and 92 from outside the University) participated in this symposium. After the lectures, various questions were raised by attendees from industries outside the University.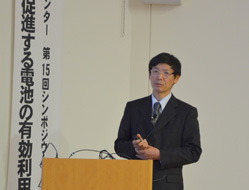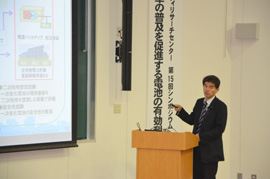 Web page of Future Vehicle City (Japanese only)