"Development of a Safe and Secure Community Centering on the Prevention of Disasters for Business Enterprise" -Disaster Prevention and Regenerate Japan Symposium was held
06 Jan 2012
---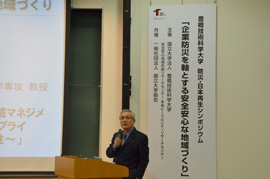 On December 2, 2011, in the Toyohashi University of Technology, Research Center for Collaborative Area Risk Management held a symposium entitled "Development of a Safe and Secure Community, Centering on the Prevention of Disaster for Business Enterprise" which was cosponsored with the Japan Association of National Universities
The purpose of the symposium was to look at how to create a safe and secure community and to consider the shape of the future community through discussions on the Business Continuity Plan (BCP), industry-government-academia cooperation in disaster prevention, and the development of disaster prevention from the business field to the community.
In the first session, under the title of "Issues and practice for BCP" Professor Kenji Watanabe, Nagoya University of Engineering, in his keynote lecture, "Vulnerability of Network type Society and Business Continuity Management (BCM) - Background to the disruption to the supply chain and the importance of joint initiatives between the public and private sectors -", stressed the necessity of a system for information sharing among the government and private sectors concerning the central risks that were revealed by the Great Earthquake.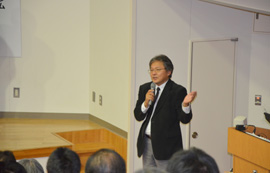 In the session on case reports, Mr. Nakagiri, Section chief of the Administrative Department, Volkswagen Group, Japan, reported on "Efforts made by the Volkswagen Group, Japan". In addition, Mr. Kadowaki, Factory Director, EXSYM Corporation also reported on "Steps taken by EXSYM". Furthermore, Mr. Hikosaka, Representative of Almac Toyohashi, and Representative of Tokai Risk Management Research Group, presented "BCP for middle and small size business enterprises"
For the keynote lecture in the second session, entitled, "From Disaster Prevention for Business entities to BCP and from regional cooperation for BCP to District Wide BCP", Mr. Nishikawa, section chief, at the Land Economy and Construction & Industry Bureau, at MLIT, commented on what the DCP (District-Wide Business Continuity Plan) should include, based on experience from both the Great Hanshin Awaji Earthquake and the Great East Japan Earthquake.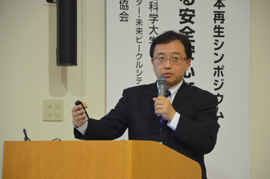 For the case reports, Mr. Yoji Hirai, Director, Mikawa Port Authority, Chubu Regional Bureau, MLIT, presented "BCP at Mikawa Port", and Mr. Ariyasu, Vice Mayor of Toyohashi City, reported on "Response of Toyohashi City to the large scale disaster"; then, Professor, Yasuhiro Hirobata, Toyohashi Tech, reported on "Transportation and traffic during the disaster", and Professor Hiroshi Takigawa, Toyohashi Tech, spoke on "Use of natural energy at the time of the disaster. Finally, active discussions, including with those in the audience, were conducted.