Dr. Ichimura, Administration Officer, National Institute of Advanced Industrial Science and Technology (AIST) gave special lecture on "Talk with the Top"
15 Dec 2011
---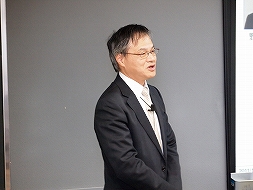 On November 25, in lecture room, A2-201, the Tailor Made Baton Zone Educational Program "Special lecture (No.1)" and a Tutorial by a Super Leader, "Talk with the Top", was held.
Dr. Shingo Ichimura, Administration Officer of the National Institute of Advanced Industrial Science and Technology (AIST) was invited to this lecture meeting. In the lecture entitled, "Research and Development in Industrial Technology and the Role of the Public Research Institute -- focusing on examples in AIST", Dr. Ichimura spoke about the activities of AIST and the relationship with his own research.

First, he introduced the organization and the scale of human resources at AIST. He said that after going through a period of catching up on technology and conducting large research and development projects, the current major mission of AIST is to respond to requests from society as a leader of technology. In particular, based on the 4th national basic plan for scientific technology, AIST has been concentrating on both the recovery from the Great East Japan Earthquake and innovative progress in technology concerning life and the environment aimed at realizing sustainable growth and social development.

Then, using the industrial scale and world market share as indicators, the specific activities of AIST, including the introduction of innovative value, systemization, integration, creation of markets by innovative seeds, creation of markets by organizing the basic technology, all of which are focused on eliminating bottlenecks in industry, were introduced.

Furthermore, Dr. Ichimura explained that the international standardization activity, including the standardization of measurements in various industries, is a major role of AIST. In particular, in terms of measurement standards, he talked about the metrology in counting the number of atoms developed in extremely high vacuums. Thus he stressed the attractive points of AIST where one can challenge extreme research, while studying to meet social needs. Finally, he introduced the director of metrology, who is an alumni of Toyohashi University of Technology, and concluded the lecture by giving cheers to the students saying "Share dreams with many people and leap into the future".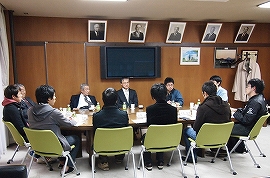 In the latter half of the lecture, "Talk with the leader", a round table talk with Dr. Ichimura, and students who take the Baton Zone Educational program was held in the President's room. In answering students' question, Dr. Ichimura spoke in depth about international activity in standardization conducted by AIST. The students were able to have another opportunity to consider the value of working at a national organization, following the previous lecture by Dr. Mizuma of the National Traffic Safety and Environment Laboratory. The lecture was fruitful for the students in widening their views as to their own futures.