"Emotional response to studying in pleasant surroundings," Professor Fujishima, President of Tokyo University of Science talked about experience in photocatalysts
14 Dec 2011
---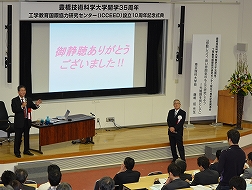 On November 16, a lecture meeting was held to commemorate the 35th Anniversary of Toyohashi University of Technology and the 10th Anniversary of ICCEED, which featured Professor Akira Fujishima, who is a world-renowned researcher in photocatalysts.

In his lecture entitled "Emotional response to studying in pleasant surroundings- an example of a photocatalyst", Professor Fujishima talked about his own experience of his fluctuating research activity in photocatalysts. In his lecture he said that our interests should be wide and varied and spoke of the importance of being moved by our surroundings. Furthermore, he stressed that one can obtain synergetic effects from pleasant surroundings which will eventually lead us to achievements of high quality. In addition, Professor Fujishima emphasized that basic knowledge is the most important thing and pointed that one must build on firm foundations.

In the latter half of the lecture, Professor Fujishima said that one should learn from history, from the great figures and from the proverbs; he stressed the importance of learning from our predecessors including their knowledge and their various experiences.

At the end of lecture, the packed audience of 300 gave him a rapturous applause.