"Seven-year History of Challenge by Hayabusa, The World's First Round Space Flight" Special Lecture was held
12 Dec 2011
---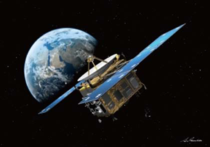 On November 19th, an open lecture commemorating the 35th Anniversary of Toyohashi University of Technology was held which featured Professor Junichiro Kawaguchi, JAXA (Japan Aerospace Exploration Agency), which developed the asteroid probe "Hayabusa".

In the lecture, Professor Kawaguchi talked about secret stories behind the development, and how the space craft re-entered the atmosphere. He spoke humorously about the 'footsteps of Hayabusa'.

At the end, Professor Kawaguchi gave cheers to young people who go forward into the future and then concluded the lecture. The lecture site was filled with a storm of applause from an audience of about 730 people, including those who watched a live broadcast in a lecture room.

This lecture was co-sponsored with the 54th Joint Automatic Control Conference.