Article of Dr Tsetserukou's research published on New Scientist web page
08 Dec 2011
---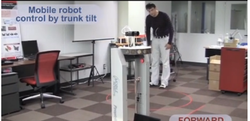 Our Member Dr. Tsetserukou, Tenure Track Assistant Professor has been interviewed by "New Scientist", a British Weekly Science Magazine" the other day.

We are pleased to announce that his interview has been uploaded their Web which title is
"Body-sharing robot lets you experience another place".
The robot will be presented at SIGGRAPH ASIA 2011 from December 13-15 in Hong Kong.

Further details are available at
http://www.newscientist.com/blogs/nstv/2011/12/body-sharing-robot.html
You can watch movie of their robot on the Web.