34th Annual Road Relay Race "Toyohashi Tech Ekiden" was held
17 Nov 2011
---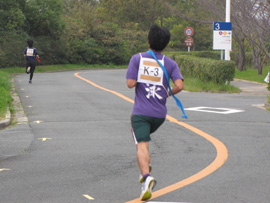 The 34th Commemoration Road Relay Race (Ekiden) was held on November 5th on the University loop and peripheral roads (10-leg, 16.2 km).
And a total of 20 teams from the University participated.

At the opening ceremony, a representative of the Track team pledged for fair play, after speeches made by Vice President Jinno and Mr. Hirako, the Chairman of the Alumnae Association.

The race was started at 13:30 by a signal from Prof. Noda, the Chairman of the Campus Life Committee.
Among the teams that raced competitively and completed the full distance, the Track team won consecutive titles, recording a time of 53 minutes and 7 seconds.
The President's Cup was presented to the Team by Vice President Kanno.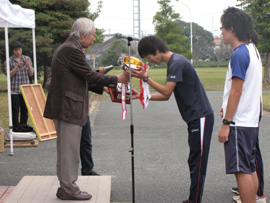 While the Track team and the Triathlon team demonstrated their great athletic ability, the Team from the Nakagawa Laboratory finished in 3rd place, following their performance last year, which was a commendable result.
The weather was not as bad as was forecast, and the event finished without any problems.