Industrial Tour for Foreign Students
31 Oct 2011
---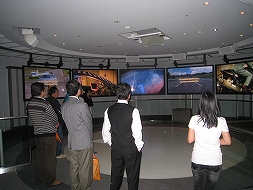 On Wednesday, October 5th, an industrial tour for foreign students at TUT was conducted by the Association of the Greater Nagoya Initiative in cooperation with the Chubu Bureau of Economy, Trade and Industry in the Ministry of ETI.

In the morning before starting the tour, Mr. Hirayama, General Manager, and Mr. Watanabe, Assistant Manager of the Association, explained the activities of the Greater Nagoya Initiative. Then in the afternoon, they visited the gallery of the Denso Corporation and its Takadana Factory.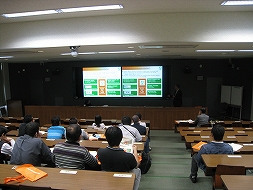 At the Denso Gallery, participants were exposed to the history and to the advanced technology of Denso. Furthermore, the party were able to observe the production systems at the Takadana factory, including the "Kanban System" (Just-in-time) "Kaizen" (Improvement) and the "QC circle" and later, they exchanged their opinions.

The foreign students who participated commented "It was a good opportunity to see Japanese advanced technology and production systems" and some questioned whether the Kanban System, which ensures that less parts are kept in stock in the line, could be improved after the recent disaster. The tour was fruitful.