Microsoft Translator for Toyohashi University of Technology Project Progressed
21 Oct 2011
---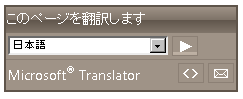 Toyohashi University of Technology and Microsoft Translator team agreed to collaborate on the globalization of the university's homepage information in 2010, and Microsoft Translator Widget is already installed in our webpage.

In order to improve the quality of translation, Prof Isahara, Information and Media Center and the team started the project with international students of Toyohashi Tech.

More than 20 international students from 11 different countries including Indonesia, Vietnam, Korea, china, Brazil, Colombia, Mexico, Germany, Egypt, and Guinea joined the project to improve the quality of machine translation of their native language.

Those students are registered as "Translator" of this site, and help the improvement.