"International University Students Exchange Program" in Indonesia (September 19 - 25)
19 Oct 2011
---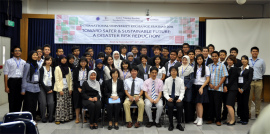 Toyohashi Tech has been undertaking a project to provide opportunities for cooperation and inter-exchange with foreign universities in order to cultivate students' international understanding and to educate personnel who will be able to act internationally.

The project has now reached its 9th year. This year, workshops were held at the Institut Teknologi Bandung (ITB) in Indonesia, which were attended by 12 TUT students, 2 technical college students from Tokai Are and 25 students from ITB, together with 3 high-school students from the local Madania high school. Lectures and discussions among the students were held based on the theme "Aiming at a safer and more sustainable future".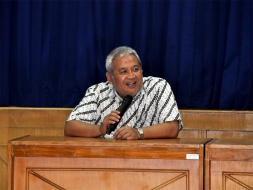 On each day, after lectures on a theme given by the instructors from ITB, discussions took place between the students on the natural disasters that have occurred in both Japan and Indonesia. Active discussions took place, resulting in a broadening of understanding of each other's backgrounds in different cultures, after which presentations were given to demonstrate how engineers should address a natural disaster.
Students from TUT carried out the discussions in English. Despite differences in culture and customs, they respected each others' opinions and deepened the understanding of international cooperation between the two countries. Friendships with Indonesian students were further strengthened.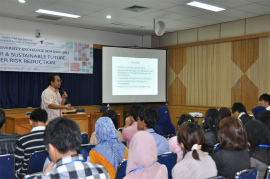 After the four-day workshop, both Japanese and Indonesian students visited a traditional Indonesian farming village to familiarize themselves with a different culture. This visit enriched their view of the ways in which people live with in communion with nature, ways that have been handed down from former times.

Furthermore, on September 25th, the attendants invited many people who had taken part in this program to attend an event where traditional Japanese and Indonesian dances were performed. Through this event they appreciated local people who are in charge and further deepened their friendship.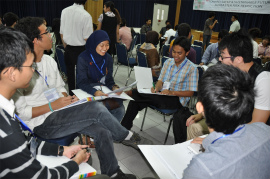 Although this was only a short program, the workshop was fruitful for both Japanese and Indonesian students.