Entrance Ceremony for Graduate School of Engineering (October Admission)
13 Oct 2011
---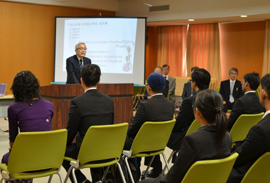 On October 4th, Toyohashi Tech held the Entrance Ceremony for Graduate School of Engineering, including the English Courses students.

16 students were admitted to the Master's Course Given in English, and 12 students were admitted to the Doctoral Course.

After the ceremony, the new students joined the orientation programme, and international students went on to the welcome party to meet current international students at Toyohashi Tech.

In October 2011, total 34 international students including non-degree students came to study in Toyohashi Tech.