Prof. Matsushima and Toyohashi Tech students joined International Student Workshop at Advanced Architecture Settimo
22 Sep 2011
---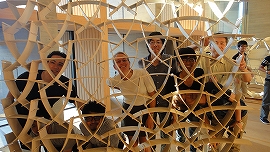 Professor Matsushima of the Department of Architecture and Civil Engineering, and three students from his Lab and a Researcher, Takenaka, participated in the International Student Workshop at AAST (Advanced Architecture Settimo, Tokyo).

The International Student Workshop, AAST (Advanced Architecture Settimo Tokyo), which was originally scheduled to be held in March but had been postponed due to the Great East Japan Earthquake, was held at the Toyohashi University of Technology and at other universities during the period from September 5th through September 10th.

AAST is a student workshop for Advanced Digital Architecture Design that originated in Italy, and which was held in Japan this year, fully supported by the Italian Embassy, Tokyo.

Toyohashi Tech was selected as a processing location, together with two other universities in Tokyo, since TUT possess laser cutters, 3-D printers and large scale CNC machines, and has also been highly evaluated for its research and practical activities.





Professor Shiro Matsushima of the Department of Architecture and Civil Engineering participated in this project, which plays a front line role in Japanese architecture, as a supervisor/reviewer, together with a researcher, Mr. Tsukasa Takenaka, who acted as a tutor for the student team.

The theme of the workshop was to design and fabricate a shelter simulating Sendai City as a background, using advanced CAD/CAM and digital fabrication technologies.

Three students from Prof. Matsushima's Lab at TUT joined in with three different teams among the four teams that participated.

Following the opening session and the team activities at Tokyo University of the Arts (TUA) on September 5th and 6th, the cutting works using laser cutters were carried out on September 7th and 8th at the TUA, Keio University, and TUT sites. Then, each team fabricated their shelter at the Wooden Hall in Shinkiba, Tokyo, on September 9th and on the morning of 10th. A presentation and review meeting was held, including Professor Matsushima's comments, on the afternoon of 10th.

Since this type of large scale project had never previously been experienced in Japan, some raised questions about the completion of the piece. However, due to the students' enthusiasm and efforts, four 'master pieces' were completed.