Technical Science Experiments and Practical Work Courses for High School Students, under the Super Science High-school project
20 Sep 2011
---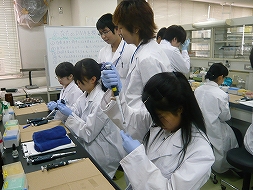 On September 1 and 2, under the SSH (Super Science High-school) project, SS technical science experiments and practical work courses for Jishukan High were held at Toyohashi Tech.

All 323 sophomore students from Aichi Prefectural Jishukan High School took this course separately in 31 parts.
This project started in 2008 in order to get high-school students interested in studying, to help them think logically, increase their ability to solve problems and to improve their capability for scientific research and technology.
.
At the opening, President Sakaki gave a lecture entitled "To the students who play a central role in the future of Japan - what the aim of technology/science is".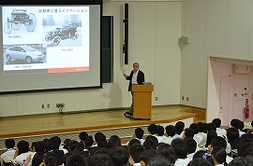 In the lecture to the students, he spoke about the history of technology and science, and then emphasized the importance of challenging without the fear of failure.

After the lecture, each student attended experimental and practical workshops. At first, the students seemed to be a little confused by the university level of the course, however, they relieved their tension as time passed. They addressed the subject enthusiastically and tried to solve the problems.

A meeting to report on this experimental/practical work course will be held at Jishukan High on October 25th.