"The Nature Observation Tour for Elementary School Pupils -visiting upriver villages in the foothills" in 2011 was held by Shinkin Banks
23 Aug 2011
---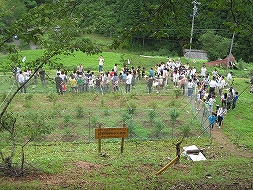 On Tuesday, July 26th 2011, five Shinkin Banks (the Okazaki Shinkin, the Gamagori Shinkin, the Toyokawa Shinkin, the Toyohashi Shinkin, and the Hamamatsu Shinkin.), which endow a course in "Science and Technology for Food and Agriculture", held "the nature observation tour for elementary school pupils - visiting upriver villages in the foothills."
The tour was co-sponsored by the Research Center for Agro-technology and Biotechnology at Toyohashi Tech, and the session included a visit to the Mikawa Convection Academy (community exchange facility) and to other areas.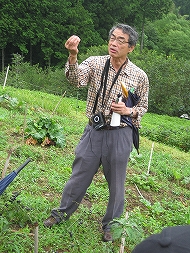 A total of 100 pupils and their parents (20 from each of the five Shinkin Banks) participated in the observation tour, with lectures given by personnel from the Agro-technology Center, enabling the participants to fully enjoy the natural environment in the Nanasato-ishiki area.

The participants travelled on buses provided by the Shinkin banks and enjoyed the journey while listening to talks given by the lecturers.
They studied the agricultural crops in the Kontaku-Nagashino area, then at the Mikawa Convection Academy, they enjoyed observations of the natural environment.
They also observed the crops, enjoyed making of fruit jams, experiments on seeds and the pigment of plants, and studied the stepped rice paddies, and observed aquatic creatures.
Finally they visited the seven waterfalls at Atera before going home.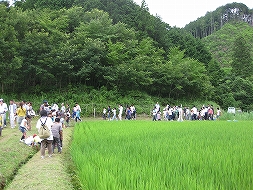 On a hot summer day, the pupils enjoyed the natural environment and participation in the activities deepened the bond with their parents.