Venture Business Laboratory held a meeting on "Current Research Status and the Future Development of a Functional Integrated Intelligence Device"
06 Jul 2011
---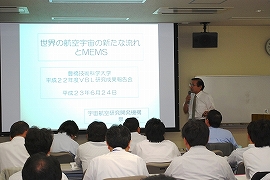 On June 24th, Toyohashi Tech Venture Business Laboratory (VBL) held a "Report on the VBL research achievements in 2010" meeting on the "Current Research Status and Future Development of a Functional Integrated Intelligence Device".

With a total of 104 participants (52 from outside the University and 52 from the University), the report comprised the introduction of research projects, invited lectures, a luncheon meeting, poster sessions, and a tour of the fabrication lab (LSI fab).

In the introduction, a brief report on the research achievements was made by Kazuaki Sawada, Director of the VBL, and then 16 researchers, including faculty and students, gave their reports.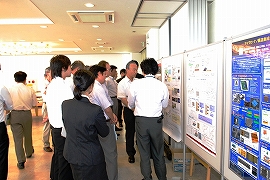 Three invited speakers attended the lectures. First, Hideaki Ishihara, Director for the Department of Advanced Development of Semiconductor at Denso Corporation, spoke on "Technology Innovation and Ecosystems for the Automobile and Semiconductor Industries in the Century of the Environment." Next, Yuji Awano of the Department of Science and Engineering at Keio University lectured on "The World of Nano-electronics that Carbon is generating". Finally, Koji Izumi, Director in Charge at the Japan Aerospace Exploration Agency (JAXA), spoke about "A New Flow of World Aerospace and MEMS".

A total of 70 people including Toyohashi Tech president Yoshiyuki Sakaki, vice President Makoto Ishida, members of faculty at VBL, and invited speakers participated in the luncheon meeting and the poster sessions introducing the research.

This meeting contributed to the promotion of business and academic collaboration, and exchange by matching the "Seeds in the University" with the "Needs in Society".