Robocon Club at Toyohashi Tech Received Idea Award and Special Award at NHK University Robocon 2011
01 Jul 2011
---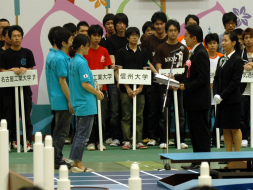 On June 12th, the "NHK University Robocon 2011; the qualifying trials for ABU Asia Pacific Robocon", was held in the Big Gymnasium, National Olympic Memorial Youth Center. Our Robocon Club, "Toyohashi Robocons" narrowly missed out in the quarterfinals, and finished in the top eight.

Toyohashi Robocons came second in the preliminary league round. However, in the first of the quarterfinals at the championship tournament, their opponent achieved "Krathong" just before the Toyohashi Robocons by lighting a fire on "Krathong" which is placed on water.

The game in this Robocon is based on a traditional Thai festival with 100 years of history in which the people express their appreciation to a river, and is entitled "Loy Krathong, Lighting Happiness with Friendship". Within three minutes, the robot has to first complete a lantern, "Krathong" to float on the river, then lay on the surface of the river set in the center of the game field, and finally light a candle placed in the center of Kraighton. The first team to light a candle placed in the center of the Kraighton is the winner.

Toyohashi Robocons lost the game; however, the team won both the Idea Award and a Special award from Panasonic System Solutions Japan, and received the following words of encouragement: " next time you will recover and win."

The videotaped game will be broadcast on July 18th from 10:05 by NHK TV


*Toyohashi Tech's Robocon Club "TUT ROBOCON" is one of the best Robocon teams in Japan, as they won Japanese Championship 6 times since their foundation in 1992.
They were also world's best 3 in ABU Asia-Pacific Robocon held in Pune, India in 2009.