VBL researcher Noviana Tjitra Salim receives coveted award from the Japan Thermal Spray Society
16 Jun 2011
---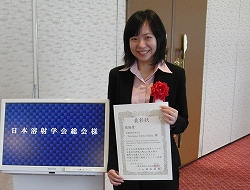 Post-doctoral researcher Noviana Tjitra Salim (Indonesia) of Toyohashi Tech's Venture Business Laboratory was awarded the 'Prize for Encouragement' by the Japan Thermal Spray Society.
This award is given to young researchers who have made outstanding contributions in the development of thermal spraying technology.
The title of Dr Salim's research was:
Synthesis of Titanium Dioxide Powders via Hydrolysis of Titanyl Sulphate for Cold Spray Coating.
Further information
Toyohashi Tech Venture Business Laboratory
http://www.vbl.tut.ac.jp/