Prof. Umemoto Awarded Honorary Mentor from Mexico's Top University
02 Jun 2011
---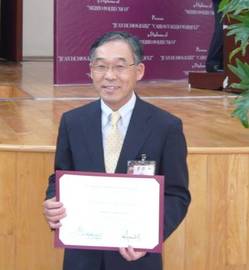 Professor Minoru Umemoto, Department of Mechanical Engineering was awarded Honorary Mentor from National Polytechnic Institute (Instituto Politécnico Nacional, IPN), one of our partner university in Mexico.

He has accepted many IPN students in his lab for their research, and on 16 May, 2011, he was awarded for his great contribution to develop study and research of IPN and Mexico.

President of IPN, Professor Yoloxóchitl Bustamante Díez gave the testimonial, during the graduation ceremony of IPN.

He also met his former students there, and also future exchange students coming to Toyohashi Tech this Autumn.