Dr Hiroshi Fujiwara, President and CEO, Internet Research Institute Gave Special Lecture
09 Jun 2011
---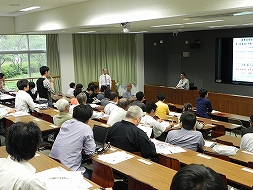 On May 26th, Dr. Hiroshi Fujiwara, CEO at the Internet Research Institute Inc, was invited to the 13th Prestige Lectures (special lectures), which were produced by University President Sakaki, and which were co-hosted along with the tailor-made "Baton Zone" lectures 2011 (second and third lectures for Leaders of Technology Development).

Dr. Fujiwara spoke about "The modern history of technology and business enterprises and entrepreneurs" by reading a history of innovative technologies and their development, focusing on those that had had a high-impact on society.
Then, by elucidating the relevant problems behind these projects, he spoke how future business enterprises and entrepreneurs should tackle them in the future and to facilitate progress.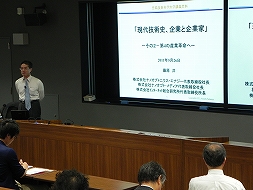 In Part I of the lecture, The Modern History of Technology, Dr. Fujiwara spoke about the development of our modern industrial society as it evolved in Europe and the USA, starting with the accomplishments of Galileo Galilei and continuing through the First Industrial Revolution (the 'Power Revolution'), the second Industrial Revolution (the 'Heavy Chemical Industrial Revolution') and the third Revolution (the 'Digital Information Revolution').

He stressed that the roles played by individual entrepreneurs in motivating scientific progress during these developments was considerable. On the other hand, the consequences of technological progress have brought us two serious world crises i.e., the World Economic Crisis and the Global Environmental Crisis.

In Part II, Business Enterprises and Entrepreneurs, Dr. Fujiwara mentioned that he sees the current era as the beginning of "the fourth industrial revolution", where environmental and energy businesses will change drastically.

Based on this stance, he emphasized that examining energy problems from a world energy perspective and considering the global environment, Japanese business must follow a path to apply and commercialize technical developments that are centered on solar energy, 'smart grids' and electric-powered automobiles.

Furthermore, he emphasized that in order to follow such a strategy we should move away from the past and its "country based on modification technology" towards a "country based on creating environmental energy" by reconstructing existing industries.

After the lecture, students questioned him intensely about topics such as the sharing of roles between entrepreneurs and persons involved in a technological enterprise, the treatment of raw materials that are used for solar cells as resources, and the implementation of security management for a smart grid.

Dr. Fujiwara answered the questions in detail, based on his belief that technology can create and define an era, which comes from his experience of success in generating venture business, together with playing a pivotal role in establishing the IT infrastructure in Japan, as well as creating a new EV venture business.

The lecture was especially fruitful for students who aim to be social leaders by assisting them to organize their ways of viewing topics and of thinking about the issues that are involved.


Prestage Lecture:
Produced by President Sakaki, Toyohashi University of Technology holds Prestage Lectures since 2009.
Inviting... Emeritus Prof. of Tsukuba University, Hideki Shirakawa, Mr Shiro Hiruta, President & Representative Director, Asahi Kasei Corp., Prof. Yuichiro Anzai, Former President of Keio University, Mr Yoshimitsu kobayashi, President of Mitsubishi Chemical Holdings, and many other VIPs.

For more details, please check:
https://www.tut.ac.jp/prestige-lectures.html [Japanese only]

---------------------------------------------------------
Dr Hiroshi Fujiwara, President and CEO, Internet Research Institute will give a special lecture as the second lecture series in Toyohashi Tech's unique educational programme called Taylor-Made Baton-Zone Programme.

DATE:
26 May, 2011
TIME:
14:40 - 17:50
PLCAE:
A2-101 Lecture room, Toyohashi University of Technology

TITLE OF LECTURE:
"History of Modern Technology,Enterprises and Entrepreneurs"

LECTURER:
Dr Hiroshi Fujiwara, President and CEO, Internet Research Institute


For the details, please contact
office@batonzone.tut.ac.jp