Company Presentation of Nippon Steel Corporation Group in Southeast/South Asia
19 May 2011
---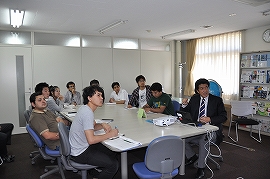 Mr.Takashi Miyakawa, Vice-president of PT. Indonesia Nippon Steel Pipe, one of group companies of Nippon Steel Corporation, visited Toyohashi Tech on May 19 and provided information to the international students on his company in Indonesia and on its related companies in Thailand and India.

13 students of Indonesia, Laos, and Bangladesh participated this presentation.


Company:
Nippon Steel Corporation Group in Southeast/South Asia
- Indonesia : INP (PT. Indonesia Nippon Steel Pipe)
- Thailand : SNP ( Siam Nippon Steel Pipe Co.,Ltd)
- India : NPI, running business from 2014

Presenter:
Mr.Takashi MIYAKAWA
Vice President Director, P.T. Indonesia Nippon Steel Pipe


For more details, please contact:
ryugaku@office
*Please append ".tut.jp" to the end of the address above.