Mr. Koichi lmanaka, Managing Officer of OMRON Gave Special Lecture
23 May 2011
---
Invitation of Mr. Koichi Imanaka to the tailor made "baton zone" lecture meeting, where a "Special Lecture on Integrated Fields (No.1)" and a tutorial by super-leaders, "Talking with the Top", were held on April 28.

From his view point from the top of two different areas, i.e. top of technology development and management of an enterprise, Mr. Imanaka lectured on the 'current status and problems in research and development at business enterprises.'

First, Mr. Imanaka introduced the company policy for technology management at Omron. By analyzing the depression in the Japanese economy, he proposed these fundamental questions:
"Have we produced truly necessary products?"
"How should we challenge the declining social quality, including the deterioration in the environment, the increasing security concerns, and energy depletion?"

Starting from these questions, he said his company policy should focus on security, safety and health as business targets in addition to the conventional targets of convenience, productivity and effectiveness.
Mr. Imanaka added that, for the last quarter of century, we have only consumed the achievements of science technology. However, now a new technology based on safety and security will be needed. 

Furthermore, he expressed the importance of the concept of a back-casting approach in which a desirable and ideal future world is defined, after which we set the targets to get there. Many questions were asked by the attendants at the question and answer session after the lecture. Mr. Imanaka concluded that 'back-casting' should be used by young university students.

Later, Mr. Imanaka had discussions in the president's room with nine students who are taking the tailor-made baton-zone education program at the 'Super Leader Tutorial' Talk with top leaders. There, he mentioned how and why he entered the business field after obtaining his academic degree.

Finally, Mr. Imanaka's message to doctoral course students was that a doctor should be a person who can apply himself to anything and who possesses the ability to do.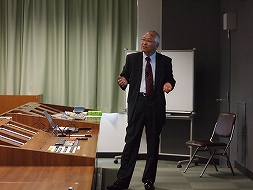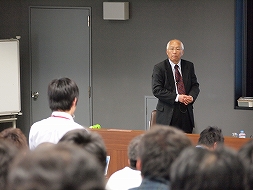 Mr. Koichi lmanaka, Managing Officer of OMRON will give a special lecture as the first lecture series in Toyohashi Tech's unique educational programme called Taylor-Made Baton-Zone Programme.

DATE:
28 April, 2011
TIME:
14:40 - 16:10
PLCAE:
A2-101 Lecture room, Toyohashi University of Technology

TITLE OF LECTURE:
"Research and Development in the Business"

LECTURER:
Mr Koichi Imanaka, Managing Officer of OMRON Co.


For the details, please contact
office@batonzone.tut.ac.jp