Registration Consultations for New International and Japanese Students
12 Apr 2011
---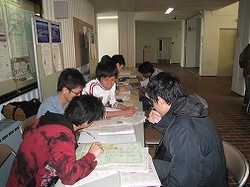 Registration Consultations was held for new International and Japanese students organized by the Center for International Relations and the Office for Student Support Services.

Date and Time:
April 12th (Tue), 13th (Wed) & 14th (Thur)
12:00~13:00 & 16:15~17:15

Location:
Student Lounge of A-building

All students from 1st year of bachelor course to doctoral course are welcome.

Please do not hesitate to come and ask anything.
Tutors of each department will give you useful advice.

We are looking forward to seeing you !