Mr Fujio Cho, Chairman of Toyota Motor Co. Gave Talk in Prestage Lecture
24 May 2011
---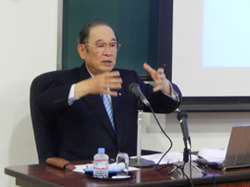 April 14th, Mr. Fujio Cho, Chairman of the board at the Toyota Motor Company, was invited to speak at the 12th Prestige Lecture (special lecture), which was produced by the university president Sakaki, and was co-hosted with the tailor-made "baton zone" lectures 2011 (first special lecture for leaders of technology development).

Mr. Cho spoke about "International competitiveness of the business enterprise" stressing the way that international business enterprises should strive to be accepted worldwide, and about the meaning of international competitiveness. In addition he spoke about the position of employees who work in international enterprises and gave his message to the young people who will forge the future of the world.

Based on his experience in international management since 1988 at the head of the Kentucky Plant, which is Toyota's sole auto-manufacturing factory in the United States, Mr. Cho said that in order to be internationally competitive, while weighing Japanese distinctions, such as the culture of fostering ingenuity, wisdom and flexibility, we must learn to combine this with the strength of the US business approach, such as strategic thought, standardization, and systemization strategy. In addition we must delve deeper into technology to improve our environmental responsiveness, IT technology, quality, and sales and services. Furthermore, employees must continuously contribute to society as local citizens. He concluded that all of this integrated effort will result in international competitiveness.

Finally, Mr. Cho directed young people, who are responsible for the next generation, to: (1) mix with foreigners on an equal basis, (2) gain the respect of foreigners, (3) be outstanding in their pursuits, (4) be a person who possess flexible ideas and a desire to study, (5) have the spirit of Give and Take, (6) look at things from the other person's standpoint, (7) be a person who can understand and respect different cultures (understand the differences), (8) consider things in depth (ask why? why? five times), and (9) have foreign friends.

After the lecture, the students asked various questions. To a question on how he would interpret his own concept of values, Mr. Cho answered that to show achievement rather than having discussions would gain real understanding. Also, in answering a question about the present threat from competitors, he commented that in a changing era, companies have to have the ability to turn in a small radius, and mentioned the Hyundai Motor Company as an example of a current challenger.

Including students, faculties and outsiders via a remote relay room audience, a total of 570 attended this major event.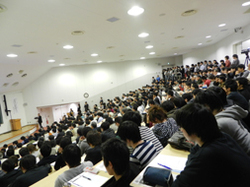 Prestage Lecture:
Produced by President Sakaki, Toyohashi University of Technology holds Prestage Lectures since 2009.
Inviting... Emeritus Prof. of Tsukuba University, Hideki Shirakawa, Mr Shiro Hiruta, President & Representative Director, Asahi Kasei Corp., Prof. Yuichiro Anzai, Former President of Keio University, Mr Yoshimitsu kobayashi, President of Mitsubishi Chemical Holdings, and many other VIPs.

For more details, please check:
https://www.tut.ac.jp/prestige-lectures.html [Japanese only]