Presentation of Toyohashi Tech Study Abroad Programme
10 Mar 2011
---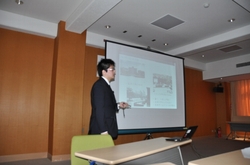 On 8 March, 2011, 10 awardees of Toyohashi Tech Study Abroad Programme (Kaigai-Kenshu-sei) gave presentations about their achievements.

With the supports from Kamino Foundation for Education and Supporters Cooperation for Toyohashi University of Technology(Gikadai Kyo-ryoku-kai), Toyohashi tech Study Abroad Programme has supported Japanese students who wish to attend international conference, take overseas internship, or take short-term study abroad programme since 1979.

This year, 11 students visited USA, Taiwan, Egypt, Finland, and Indonesia for attending International Conference or taking internship.

They presented their achievements in front of President Sakaki and guests from supporters.