Toyohashi Tech launches EIIRIS--Electronics-Inspired Interdisciplinary Research Institute
01 Oct 2010
---
The Electronics-Inspired Interdisciplinary Research Institute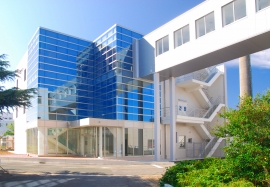 Toyohashi University of Technology (Toyohashi Tech) was founded in 1976, and based on the spirit of 'Master technology, Create technology' the university has evolved and fulfilled its mission of educating and nurturing students; research and development of technology; and contributing to society by implementing academic-industrial government projects and interaction with the local community.
Recently, however, changes in global economics and industrial priorities, environmental and energy issues, food and population problems have become serious challenges for the future of humanity, with the world international facing a major turning point. In response to these global-social changes, Toyohashi Tech is reorganizing its academic and research structure to meet the challenges of the next 20 to 30 years. The Electronics-Inspired Interdisciplinary Research Institute (EIIRIS) is a 'pillar of research', reflecting the universities commitment to finding solutions now, for problems of the future.
During it relatively short history, Toyohashi Tech has been internationally recognized for the development of innovative and cutting-edge technology and major contributions to industry. Among these achievements, Toyohashi Tech researchers are widely acknowledged for their contributions to the field of electronics including sensor microchips and ultra-high capacity memory devices. Notably, this expertise was a critical factor behind the selection of Toyohashi Tech for one of the highly competitive Global Center of Excellence (G-COE) awards by MEXT.
Research at the Electronics-Inspired Interdisciplinary Research Institute fuses the university's historical excellence in electronics with the 'advanced knowledge' of medicine and medical diagnostics, agriculture, and information communication technology. Our goal is to open up new frontiers in interdisciplinary research--EIIRIS is the 'flagship' of research at Toyohashi Tech.
The initial proposal to set up an interdisciplinary research institute was made two years ago, and fortunately MEXT accepted our vision and approved funding for construction the new research facility in the fiscal 2009 supplementary budget. Importantly, in the same year, MEXT also selected Toyohashi Tech for a tenure track program for hiring young researchers, thus enabling the realization of the new research facilities much earlier than initial plans. I would like to take this opportunity to thank all the people involved in this project for their support in establishing this research complex.
The university is determined to build on our tradition and achievements and continue to push back the frontiers of research. We look forward to the continued understanding and support from friends and colleagues all over the world.
Related Events
These events can be viewed on a live internet stream at the following site: http://www.eiiris.tut.ac.jp/
Opening ceremony
Date: 15th November 2010
Time: 11:00
EIIRIS Opening Memorial Symposium
Date: 15th November 2010
Time: 13:30~17:50
EIIRIS International Symposium 2010
Date: 16th November 2010
Time: 10:00~17:00