Partnership Between Kobelco Construction Machinery and Toyohashi University of Technology
23 Apr 2019
---
On April 23, we held an opening ceremony and press conference announcing a joint research course with Kobelco Construction Machinery on next-generation cranes.
This course will look at the ideal future forms of next-generation cranes, with research into automation, AI, big data, and other contemporary topics.
This partnership is intended to further bolster the societal appeal of both the university and the company, while the hands-on educational approach will help cultivate highly sophisticated engineers. This will be the first course at Toyohashi University of Technology launched jointly with a private company.
Download the PDF Handout (Japanese version)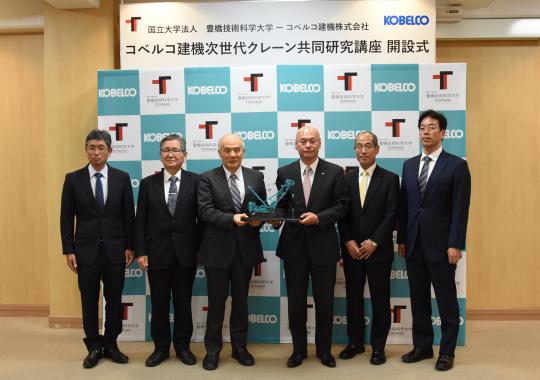 From left: Professor Naoki Uchiyama, Department of Mechanical Engineering; Kazuhiko Terashima, Vice President; Takashi Onishi, President; Kazuhide Naraki, Kobelco President and CEO; Tasuku Aoyama, Director and Senior Managing Executive Officer, Masato Tanji, Deputy Manager of Technological Development Division