A Real-time Match between Toyohashi and Israeli Elementary School Students in the University Library!
10 Jan 2018
---
From May of 2017, "Toyohashi Programming Challenge 2017," which allows a broad range of citizens, from children to seniors, to experience programming, was conducted in collaboration with the private sector, public sector, and educational facilities, led by the Toyohashi Board of Education.
This program was adopted as a demonstration project for promoting education on programming. It was run by the Ministry of Internal Affairs and Communication, with the aim to make education on programming a requirement at elementary schools from the year 2020. "CodeMonkey," a programming education game which is widely used outside of Japan and was developed in Israel, a country that is advanced in the field of IT, was used as the learning material, and the design and implementation of the planning for this project was conducted primarily by Professor Takaaki Takashima of the Toyohashi University of Technology.
At the conclusion of this project, half a year from when it started, a contest where four teams from Toyohashi City and four teams of Israeli elementary schools (16 members each) could show off their programming skills was held on December 17, 2017, and they utilized the large screen installed in the Multi-Plaza in the Toyohashi University of Technology's library.
This was a team match where the venues of the Toyohashi teams and Israeli teams were connected via an international live broadcast through the Internet, and the teams of elementary school students from both Toyohashi and Israel played a special stage of CodeMonkey made specifically for this contest. The teams tried to score the highest number of points within the one-hour time limit. With enthusiastic support from over 100 attendees, including the mayor of Toyohashi City, the superintendent of education, the CEO of CodeMonkey who had made the trip to Japan, the parents and guardians of the students, and the mentors from Toyohashi who taught programming to these students after school, and with the vibrant enthusiasm of the students participating in the event, this one-hour match ended before they knew it.
The result of the match was that the Israeli teams placed in the top three positions. However, in spite of the fact that it was assumed that the Japanese teams would lose by a large margin due to the fact that programming is already taught at elementary schools in Israel, the teams put up a good fight until the very end. The potential of Japanese children was shown through outcomes such as a Japanese pair coming out on top in terms of individual results. This marked the final day of a project that was invigorated by the participation of local citizens and exhibited the effectiveness of programming educatio
Toyohashi Programming Challenge 2017 Toyohashi City Homepage
CodeMonkey Japan Homepage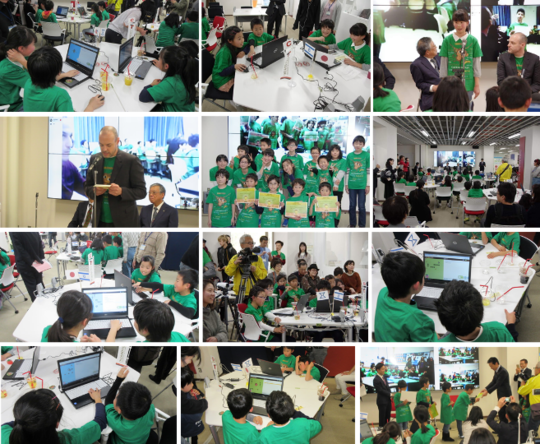 Photos provided by CodeMonkey Studios Inc.