Announcement of the Entrance Ceremony for the academic year 2018
04 Apr 2018
---
---
1
Date & Time
April 4 (Wed.), 2018, 10:00am-11:40am
2
Place
AI PLAZA Toyohashi(アイプラザ豊橋 講堂)
TEL : 0532-46-7181
http://www.aiplaza-toyohashi.jp/
3
Transportation to the Hall
◇Chartered Bus (Free of charge)
Toyohashi University of Technology → AI PLAZA Toyohashi
※Please come to the East Parking Area (東駐車場)of the university by 8:35am.
When you get on the bus, please follow the university staff's instruction.
【Please refer to the map at the bottom of this page. 】
◇Toyohashi Railway Atsumi Line(豊橋鉄道 渥美線)
- nearest station: "Minami-sakae" Station(南栄)
- about 7 minutes from Toyohashi Station
- 140 yen / one way
- 8 minutes walk from the "Minami-sakae" Station
◇Taxi
About 20 minutes from the university to the Hall
About 15 minutes from Toyohashi Station to the Hall
◇Private Car
There is NOT enough parking area at the Hall.
Please come to the Hall by public transportation.
4
Note
・The Entrance Ceremony will be held for both undergraduate students and graduate students
・Please come to the Hall by 9:30am.
・After the ceremony, the student lifestyle guidance lecture shall be given at the university, during which time the parents should attend the parent meeting.
・Free buses shall be provided to return you to the university after the ceremony.
【AI PLAZA Toyohashi】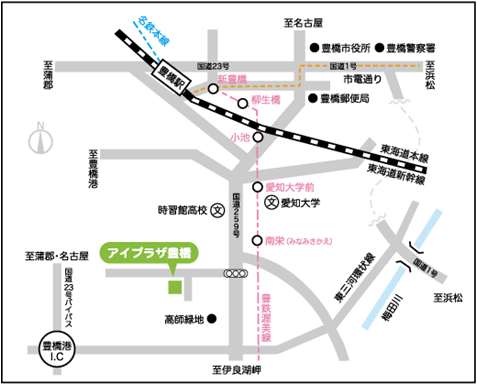 【Bus stop】East Parking Area of the university