Azusa Kage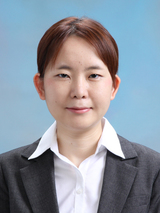 Affiliation
Department of Mechanical Engineering
Title
Assistant Professor
Fields of Research
Gravitational biology; Cell motility
Degree
Ph.D. in Biology (Ochanomizu University)
Academic Societies
Zoological Society of Japan; Biophysical Society of Japan
E-mail
kage@me
Please append ".tut.ac.jp" to the end of the address above.
Laboratory website URL
https://sites.google.com/site/kageazusa/
Researcher information URL(researchmap)
Researcher information
Research
I have been working on gravitational biology and collective dynamics of swimming microorganisms living in low Reynolds number comditions.
Theme1:Mechanics of gravi- and rheoresponse in swimming microalgae
Overview
Microalgae are primary producers in nature. Some swimming microalgae such as Euglena, Chlamydomonas and Volvox have been used by biologists as model organisms for investigating important biological processes, e.g. photosynthesis and motility. They swim with thin hair-like structures called cilia or flagella, of which diameter is about 200 nm, and show directional movement to external stimuli such as light (phototaxis) or gravity (gravitaxis). In order to understand how they move in sub-millimeter scale, mechanical as well as physiological approach is essential. We particularly focus on responses to gravity and flow in Chlamydomonas, a unicellular, biflagellated green alga, that is a leading model organism for studying eukaryotic flagella and a "ready-made" puller-type microswimmer.
Selected publications and works
Chiharu Hosoya, Asuka Akiyama, Azusa Kage, Shoji A. Baba, Yoshihiro Mogami, Biological Sciences in Space, 24: 145-151, 2010.
Keywords
Low Reynolds number; microswimmer; gravitaxis; mechanical stimuli
Theme2:Collective motion of microorgamisms
Overview
Bioconvection, a class of collective motion, occurs in suspensions of swimming microorganisms. It was named "bio"convection because of its similarity to other convective phenomena, particularly to Reyleigh-Benard convection by appearance. Bioconvection is distinguished from other convective phenomena by that the particles in the fluid are active and self-propelled; they are different from passive tracer particles and their movements cause bioconvection. We aim to understand this collective motion in terms of the underlying hierarchy: from molecules to individual motility, from individual motility to collective motion.
Selected publications and works
Azusa Kage and Yoshihiro Mogami, Zoological Science, 32: 396-404, 2015.
Azusa Kage, Chiharu Hosoya, Shoji A. Baba, Yoshihiro Mogami, The Journal of Experimental Biology, 216, 4557-4566, 2013.
Azusa Kage, Eriko Asato, Yoko Chiba et al. Zoological Science, 28: 206-214, 2011.
Keywords
Collective motion; flagella/cilia; biofluid; active matter
Title of class
Experimental Practice for Mechanical Engineering (B11610021); Creative Experiment for Mechanical Engineering (B11610103); Physics Laboratory (B1013009a)
Others (Awards, Committees, Board members)
[Honors and Awards]
- 2nd place in the Fluids Category Poster Competition, American Society for Gravitational and Space Research (2012)
- Yasui-Kuroda Scholarship, Ochanomizu University (2012)
- Zoological Science Award and Fujii Award, Zoological Society of Japan (2012)
---