Kyoko, Kanzaki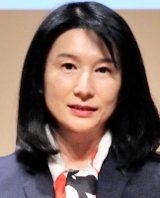 Affiliation
Center for IT-Based Education (CITE)
Title
Project Associate Professor
Fields of Research
Linguistics (Lexicon, Lexical Semantics), Natural Language Processing
Degree
Doctor of philosophy
Academic Societies
Association for Natural Language processing, The Linguistic Society of Japan, Society for Japanese Linguistics, Mathmatical Linguistics
E-mail
kanzaki@imc
Please append ".tut.ac.jp" to the end of the address above.
Laboratory website URL
http://researchmap.jp/kanzaki
Researcher information URL(researchmap)
Researcher information
Research
Our aim is to clarify the mechanism by which we store linguistic information in our brain, which is called "mental lexicon", and to create computer system which understands and generates sentences.
A human generates a sentence flexibly with combining some words by using syntactic and/or semantic information.
We are investigating organizations of Japanese words by using relations between words, and exploring syntactic and semantic rules used during sentence generation.
Theme1:Construction of Verb Lexicon with paraphrase expressions for Control Language
Theme2:Project for "Knowledge Hub AICHI"
Theme3:Semantic organization of words extracted from corpora
---