YUKO SAKAMOTO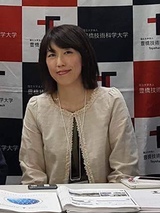 Affiliation
Insthitute for Global Network Innovation in Technology Education
Title
Project Associate Professor
Fields of Research
Teaching Japanese as a Foreign Language (JFL), Second Language Acquisition(SLA), Cross-Cultural Communication
Degree
All But Dissertation(Ph.D.course in Cross-cultural communication, Aichi Shukutoku University)
Academic Societies
Intercultural Education Society of Japan, Japan International Education Society, Council of International Student Advisors of National Universities
E-mail
sakamotoyuko@cir.ignite
Please append ".tut.ac.jp" to the end of the address above.
Researcher information URL(researchmap)
Researcher information
Theme1:Motivation in Japanese language learning as a foreign language
Overview
The research theme is the motivation and the factors that cause to change the motivation of learners who learn Japanese as foreign language. I conducted a survey at secondary and higher education institutions not only in Japan, also in China, Russia and Vietnam. The results of each survey, I examined the relevance of the motivation, characteristics of students, mother culture and educational background, and I proposed a one of the teaching strategy for different students.
Theme2:Study of Japanese teaching strategy
Overview
Proposing effective Japanese teaching strategy and materials based on the second language acquisition theory and memory mechanism, mainly focusing on reading comprehension and vocabulary.
Research the effectiveness of learner's peer activities and cooperation of four skills (listening, speaking, reading and writing) on different course levels and purposes.

Theme3:Creating Japanese course, curriculum and syllabus
Overview
I've been conducting in Japanese language course designing, creating syllabuses and making training curriculums for Japanese language educational institutions in Japan and overseas. In order to achieve the goal of the learners and the courses, I establish a theoretical curriculums, syllabus and give advice teachers to improve quality of teaching methods by approaching scientific and efficient course design with benefits for both learners and teachers.
Title of class
Japanese 1A・1B, 2A・2B, 3A・3B, 4A・4B, 5A・5B, Comprehensive Japanese 5A・5B, Advanced Japanese(Grammar)1A・1B, 2A・2B, Advanced Japanese(Reading)2A・2B
Japanese intensive courseⅠ
Basic Japanese(Fall semester)
---