Mitsuteru Inoue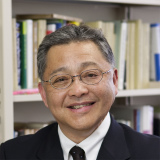 Affiliation
Doctoral Programs in Graduate School of Enginering
Title
Professor
Fields of Research
Electronics / Magnetics
Degree
Ph.D in Eng. (Toyohashi University of Technology)
Academic Societies
The Institute of Electrical Engineers of Japan / The Institute of Electronics, Information and Communication Engineers / The Japan Society of Applied Physics / The Magnetics Society of Japan / Materials Research Society (USA)
E-mail
inoue@ee
Please append "tut.jp" to the end of the address above.
Researcher information URL(researchmap)
Researcher information
Research
Our expertise is laid on the field of magnetics. Based upon the interaction among spins and other physical quantities such as light and sound, new class of functional materials and their applications are now under investigations.
Fabrication of magnetophtonic crystals with artificial periodic structures and elucidation of their linear and nonlinear optical properties, preparation of nano-structured magnetic materials, formation of electronic ceramics, are good examples of the studies in material development section of our group.
The application section of our group is now interested in the holographic optical data storage, optical switches with ultrahigh speed, three-dimensional display, ultra-fast spatial light modulators, and unwire SAW sensing systems.
These studies have been supported, in part, by JST-CREST, MEXT evolutional technology development project, NEDO nano-level electronic ceramics development project, and Grant-In-Aid from MEXT.
---