Mitsuo Yoshida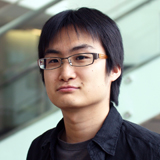 Affiliation
Department of Computer Science and Engineering
Title
Assistant Professor
Fields of Research
Web Engineering / Natural Language Processing / Computational Social Science / Information Retrieval
Degree
Ph.D. in Engineering (University of Tsukuba)
Academic Societies
Information Processing Society of Japan / The Japanese Society for Artificial Intelligence / The Association for Natural Language Processing / The Database Society of Japan
E-mail
yoshida@cs
Please append ".tut.ac.jp" to the end of the address above.
Laboratory website URL
http://www.cs.tut.ac.jp/~yoshida/
Researcher information URL
Researcher information
Research
The web (internet) was born more than 15 years ago, now it became an indispensable service for us. On the web, there are a lot of information such as documents written by someone, photos / videos taken by someone, sounds spoken by someone. I am working on research to extract useful information focusing on documents (texts) and relationships between users (social graphs). Recently, I am utilizing big data of social media and analyze the relevance to real world. I am also actively conducting joint research with industries.
Theme1:Altmetrics: Research Evaluation on Social Media
Overview
I am working on developing novel index for research paper evaluation using social media. As a part of this, I have been provided a web service (Ceek.jp Altmetrics) in order to analyze trends of Japanese research papers on the web.
The previous index for research paper evaluation is based on the number of citations in research papers. The problem with this index is that the evaluator is limited to researchers and it takes time to calculate the index. Today, readers of research papers are not limited to researchers. Therefore, we need an evaluation index that also takes into the index the degree of attention other than researchers.
Keywords
Bibliometrics
Theme2:Web and Social Media Analysis
Overview
I aim to reproduce real world information using web data, especially social media data. It is fairly costly to observe real world. For example, we will conduct a questionnaire survey and put on sensor devices according to the environment to be observed. Recently, we will acquire useful information on the web. However, it is pointed out that users are biased on the web. In other words, the relationship between the web and the real world is not always clear. In this study, we will investigate the characteristics of social media data and clarify the relationship between the web and the real world.
Selected publications and works
Yuka Kamiko, Mitsuo Yoshida, Hirotada Ohashi, Fujio Toriumi. Uncovering Information Flow Among Users by Time-Series Retweet Data: who is a friend of whom on Twitter?. Proceedings of the 2016 IEEE International Conference on Big Data (Big Data). pp.2500-2504, 2016. (AMiner)
Shiori Hironaka, Mitsuo Yoshida, Kyoji Umemura. Analysis of Home Location Estimation with Iteration on Twitter Following Relationship. The 2016 International Conference On Advanced Informatics: Concepts, Theory And Application (ICAICTA2016). Penang, Malaysia. August 16-19, 2016. (arXiv.org)
Mitsuo Yoshida, Yuki Arase, Takaaki Tsunoda, Mikio Yamamoto. Wikipedia Page View Reflects Web Search Trend. Proceedings of the 2015 ACM Web Science Conference (WebSci '15). no.65, 2015. (arXiv.org)
Yuto Yamaguchi, Mitsuo Yoshida, Christos Faloutsos, Hiroyuki Kitagawa. Patterns in Interactive Tagging Networks. Proceedings of the Ninth International AAAI Conference on Web and Social Media (ICWSM-15). pp.513-522, 2015.
Yuto Yamaguchi, Mitsuo Yoshida, Christos Faloutsos, Hiroyuki Kitagawa. Why Do You Follow Him? Multilinear Analysis on Twitter. Proceedings of the 24th International Conference on World Wide Web (WWW '15 Companion). pp.137-138, 2015.
Keywords
Computational Social Science, Network Analysis
Theme3:Web and Social Media Mining
Overview
Social media is being used on a daily basis, and various information is posted there. I have been operating data collecting systems, especially from social media (Twitter), where various information is posted. As the result, I can handle almost all tweets with location information and Japanese/English retweets, and large scale social graphs. I am conducting researches to make the most of these data.
Selected publications and works
Takashi Nicholas Maeda, Mitsuo Yoshida, Fujio Toriumi, Hirotada Ohashi. Decision Tree Analysis of Tourists' Preferences Regarding Tourist Attractions Using Geotag Data from Social Media. Proceedings of the Second International Conference on IoT in Urban Space (Urb-IoT '16). pp.61-64, 2016.
Mitsuo Yoshida, Yuki Arase. Exploiting Twitter for Spiking Query Classification. Information Retrieval Technology (Lecture Notes in Computer Science). vol.7675, pp.138-149, 2012.
Keywords
Data Mining, Natural Language Processing
Title of class
Basic Experiments in Computer Science and Engineering
Laboratory Experiments on Computer Science and Engineering
---